Riding and Driving Lessons, Field Boarding and Training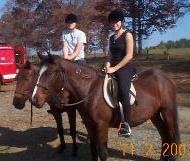 Horseback Riding Lessons
Mahalo Farm offers private and semi-private riding lessons for children and adults. All lessons are taught by Patty Swygert who is trained in natural horsemanship, carriage driving, hunter-jumper and western. Patty has been riding for 50 years, starting out in the hunter-jumper discipline. Later she fox hunted extensively and became an accomplished singles carriage driver, competing successfully at Fair Hill in the Open Preliminary Division. For the last 20 years she has focused on natural horsemanship and some western riding and more recently has begun the study of classical dressage. Patty studies postural disciplines such as Alexander Technique to assist riders in finding that often elustive, "perfect seat." Her continuing education includes hosting clinics with Chris Cox and Curt Pate and Mari Monda Zudonic. Patty and some of her students are now competing in a new sport to the US, TREC.

Most of the horses can be ridden in halters, even by beginners. Bridles are also used for more precise manuevers.

Lessons may include ground work, riding on the lunge, bareback, trail riding, fun games, barrel racing and pole bending and of course, JUMPING.

| | | |
| --- | --- | --- |
| A lunge lesson comes in handy to secure your position. | Followed by some focused concentration ... | And now for the fun part - JUMPING!!!!!! |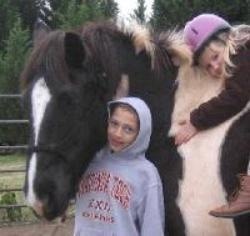 Patty has trained all of the lesson horses herself. She has adopted and trained wild mustangs as well as countless other breeds. She specializes in all-round horses that are fun to ride and able to perform the diversity of activities her students like to do.

Private lessons are $40 for 1 hour and $25 for 1/2 hour. Semi-private lessons (usually two riders, but up to 4 riders) are $35 per hour. Half day and full day lessons, shows, fox hunting, trail riding and hunter paces are available during holidays and on weekends.


Sometimes a group hug is in order ->


Shown below, the Mahalo Farm team goes to the nearby Farmington Hunt Club hunter pace.

| | | |
| --- | --- | --- |
| Mahalo Farm Team at the November 2009 Hunter Pace. | Returning after our fun and sweaty ride. | Even after our long ride, this little rider is still full of glee, or is she simply wondering what happened to her horse's head? |
Carriage Driving Lessons and Training
Mahalo Farm offers carriage driving lessons and training for pleasure drivers and those interested in competing in combined driving. This past summer we taught little Elvis, the 10 hand pony, and his 13 year old owner, Morgan, to drive. Elvis' lessons have been videotaped and are being put on youtube. If you want to learn the process of training a horse to drive from start to finish, tune in to Elvis' videos. So far, I only uploaded lesson 4 part 1 http://www.youtube.com/watch?v=Dzg8XjSBYaM . The rest of the videos are to follow.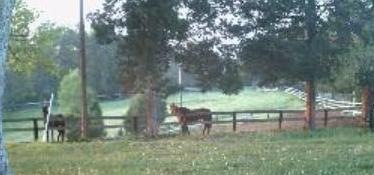 Boarding
Mahalo Farm offers pasture boarding (stalls are available for emergency use) for a small number of horses. Board is $197/month for April through December and $240-$260/month for January-March, depending on hay prices. Board includes hay when grass is not available and daily checking of horses. We provide organic flax seed, organic Icelandic kelp, Redmond Salt, Himalayan Salt (on occasion,) plain white salt and triple cleaned whole oats.

Photo above: Two boarders lounging in the driveway paddock.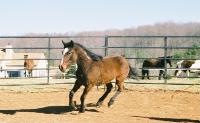 Training
Limited training is available on or off site.

The photo at right was taken on Bode Miller's first day at Mahalo Farm. She was WILD and right off the range. See her above a year later at a local horse show standing quietly and being shown in a halter!

Meet Mahalo Farm's Horses and Ponies


Meet Sundance. She is an Appaloosa cross large pony born in 1999. She is an amazing trail horse with a super fun trot and is most always calm. She is very friendly to other horses. I call her 'my welcome wagon,' and she forms deep bonds with horses as well as her special riders. Sundance is definitely NOT a girly girl and hates pink. She does enjoy being scratched on the chest.
Riding Level - Beginner to adanced.
Sundance is a great lesson horse and an expert on trails.

The above photo is is a perfect example of Sundance. She is very relaxed, and loves her riders.
Meet Marrakesh. She is a beautiful, petite mustang from Utah, born in 2003. She doesn't just let any rider jump on her. You have to connect with her. She is a great jumper and has become a really confident pony. She is good about going out on trails alone, if you trust her and her you. If you ride well enough and are petite enough, she is a treat to ride.
Riding Level - advanced beginner to advanced


Marrakesh and Charlotte jumping our new hedge jump.
Meet Mustango. He is an old, loving horse who is great for beginners and so much fun on trails. He cannot hear or see very well, but if you ride him with your heart, he will trust you and be a friend for a long, long time.

Riding Level - From the first day rider on up as long as you like to go slowly. He is always patient and a joy to ride.

Mustango taking a nap while waiting patiently.
Meet Bode. She is a large pony mustang from Nevada born in 1999. She is a super girly-girl and loves to be groomed and fussed over. She is great at jumping and has a fun bareback canter. She does not like going out alone, but loves the ring, trails and especially cross country jumps in the lower fields.

Riding Level - beginner to intermediate

Bode in true jumping form with Oksana on board.
Meet Mr. President.
Meet Koda.
Meet Tres Bien. He's a wonderful and sweet Arabian/Shetland Pony Cross born in 1998. He loves all people, well, not my former boarder Elizabeth, but everyone else. He is great on the lunge line and loves to play in the round pen. At 15+hands and with a sturdy build, he can carry a full-sized adult. He loves to canter, and will even canter in place a few strides, if you get it right. He has a reasonable leg yield and a beginning half pass. He's been a bit overly enthusiastic at jumping, but he's now discovered his 'groove' and is teaching some students how to jump. Trails are not his thing. But he never bores of the ring!
Meet Lillith, formerly known as Lily. She is a 16 hand Andalusian/Thoroughbred/Canadian Cross who was born in 1997. She comes from a line of Grand Prix jumpers and dressage horses. Her grandfather competed for Canada in the Alternative Olympics in London, and her great grandfather competed for Germany. Reiner Klimke imported her aunt back to Germany. She is great as my lead horse on trails and is fun to ride dressage, though an old stifle injury limits her flexibility a bit.
Meet Timo, short for Ultimo. He's a 15.1 hand Lusitano born in 2001. He's good-natured, handsome with a bit of golden retriever tossed in for personality. He's my primary TREC horse and seems to tolerate the 12 km rides and complicated obstacles. He came in 3rd out of 20 horses at his first TREC trial, The VA State TREC Championships. Here he is attempting his first leg yield (and my first as well.) Not too bad for two beginners even if I have a bit of a lean going on.